What is involved in the skippers ticket tests?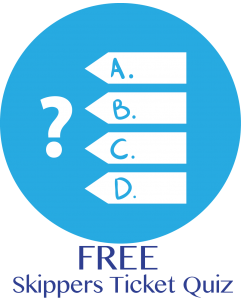 The recreational skippers ticket tests are designed to test your skills and knowledge of boating safety. It is not so much a boating license (as compared to a driver's license), but more a proof of competency and understanding of general maritime rules.
Getting your RST consists of passing two different skippers ticket tests:
In order to attempt the practical assessment the theory assessment must be done prior.
The theoretical section of the recreational skippers ticket tests consists of 40 multiple-choice questions. 34 out of these 40 questions must be answered correctly in order to pass.
The questions are designed to prove you have adequate understanding of the following boating concepts:
Recreational boating rules and regulations.
International marine collision rules.
Buoys and other navigation aids.
Use of navigation lights on boats.
Maintenance of a vessel's structure, motor and equipment.
Required safety equipment.
Trip planning and responsibilities to passengers.
Distress signals and responding to emergencies.
Studying for the theory exam:
-WORKBOOK
Like all exams, prior study is STRONGLY recommended before attempting the exam. The Department of Transport produce an RST Workbook, which covers many aspects of both the theory and practical aspects of the RST assessment. It is essentially mandatory reading, providing clear and concise information, as well as practice questions for the student.
This workbook can be downloaded directly by clicking on this link: RST Workbook PDF. Alternatively, hardcopies of the book can be picked up from marine charting agents, some fisheries offices as well as from the Perth Boat School office.
-INFORMATION DVD
One of WA's RST training providers has produced a FREE DVD outlining the practical and theory aspects of what is required during the Recreational Skippers Ticket assessment. These DVDs can usually be picked up for free at any BCF, Ranger Camping store, as well as from most boating dealerships within the Perth region.
-PRACTICE QUIZ
Testing your knowledge is an indispensable way to ensure you get the most out of your skippers ticket assessment. Visit the 
SKIPPERS TICKET QUIZ
 website to test your boating knowledge.
Skippers Ticket Practical Assessment
Once you have passed the skippers ticket theory exam, you are then able to start your boating training and practical assessment. This is the fun bit!
The purpose of the practical assessment is for you to be tested on general boating skills and safety than can be utilised in any trip, such as trip planning and preparation and vessel control. There are 62 small elements that are assessed over 11 individual boating tasks. Of these 62 tasks, at least 56 must be deemed competent by your trainer. Of course, your trainer will demonstrate, train and help you practice these tasks before testing you. Perth Boat School offers different training courses to suit the individual requirements of their students.
During the skippers ticket practical, you will be required to complete 11 tasks:
Operate a vessel within the rules and regulations.
Check the condition of a vessel's anchors, lines and equipment.
Conduct a safety briefing for those on board.
Start the motor safely.
Log a voyage plan.
Safely departing a berth.
Conduct a simulated man overboard operation.
Steer a steady course with the aid of a transit.
Perform a controlled stop.
Return to a berth and secure the vessel.
Log off.
Most students complete their practical assessment within an hour, usually after an hour or so of training.
Skippers Ticket Practical Demonstration by Perth Boat School: